An easy way to give your yard instant appeal is to install a fountain. You don't have to go all-out and commission a miniature of Rome's Trevi Fountain; in fact, you don't need to commission anything. A yard water fountain is easy to make yourself and you can customize it as you like: buy a classic cherub fountain topper if you want a traditional look, or simply use stones and plants for a natural effect.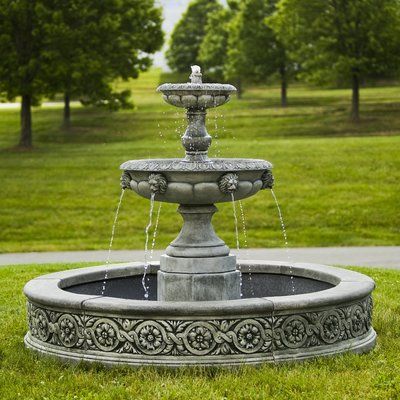 Instructions as follows:
Firstly, position a large ceramic flower pot where you want the water fountain to be in the yard. Check that it doesn't have drainage holes; if it does, seal them up with silicone sealant and let the sealant dry.
Secondly, place the pump in the bottom of the ceramic pot. Switch the pump power button to "On," but do not connect the power yet. Attach the pump hose and let it trail over the top of the pot for now. Run the power cord of the pump over the back side of the pot, where it will be out of sight.
Thirdly, place stones in the bottom of the pot, obscuring the pump from view. Ensure the pump hose is unhindered. Create a pylon in the center of the pot with stones that you will rest the top part of the stone fountain on; it should extend upward until it is about 3 inches below the rim of the ceramic pot.
Fourthly, choose a fountain topper or nozzle to place on the pylon. Alternatively, a smaller ceramic pot, jar or urn can be used as a fountain topper. If you are using a ceramic pot or urn, drill a hole large enough for the pump hose to pass through on the side of the pot, just up from the base.